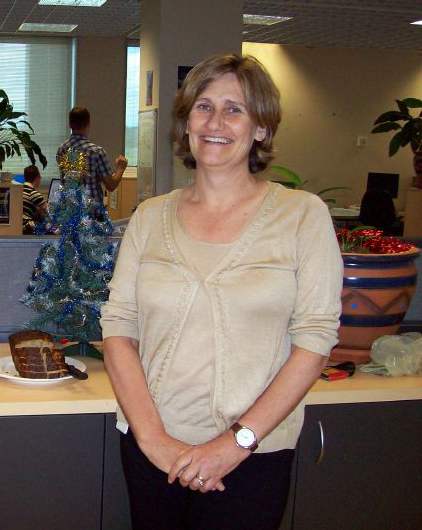 A Celebration of the Life
of
Michele Huston
5th September 1956 – 2nd September 2010
Tobin Brothers' Chapel, Belconnen
Friday 10th September 2010
1.30 p.m.
Celebrant: Neil R Gill Th.Dip.
Tobin Brothers – Funeral Directors
While the mourners are entering the chapel:
Cello Suite No. 1 in G Major, BWV 1007 – Prelude. J.S. Bach
After all have been seated and prior to the celebrant entering:
"Lacrimosa" from the Requiem Mass in D Minor, K626. W.A. Mozart
Celebrant:
Good afternoon, on behalf of Michele's family, I welcome you all to this time of thanksgiving, celebration and reflection on Michele's life. I'm Neil Gill, the celebrant for this memorial service. You have just heard the "Lacrimosa" from the Requiem Mass in D Minor, K626, by Wolfgang Amadeus Mozart. All the music you will hear today has been especially chosen by Geoff to allow us to reflect on Michele and her life.
I met with Geoff, Sam and Alice on Monday to talk about what should take place at this time, and they indicated to me that this ceremony had to be a celebration of Michele's life, a time to especially remember her and to give thanks for her life, her work and her love, and to remember her unique gifts that she shared with her family and friends. So this afternoon, in this time we share together, we will be remembering her and what she meant to each of us, and give thanks for her life and to allow us, each in our own way to support each other in this time of loss and grief.
Michele died peacefully at Clare Holland House last Thursday three days before her fifty-fourth birthday. To Geoff, Chris, Sam and Alice we especially express our sympathy and support in this difficult time.
Coping with the death of someone we know and love is always difficult even when it's expected, and the final passing is a release from pain and suffering. Michele had led a full and interesting life, with many and varied interests, but even as we acknowledge and rationalise this fact in our minds, her death has a huge emotional impact on us. It's the loss and sadness we experience, that make parting difficult. It is also the realisation that we won't ever be able to sit down with her, have a good time together, have some discussions, share some laughs. But for the times we have had with Michele we must be grateful and give thanks. The memories we now carry of those good times, we can always have, and it's through these memories that she still lives and remains with us, and for that we are especially grateful.
When the sun goes down
Below the horizon
It is not set,
The heavens glow a full hour
After its departure

And when a good person dies
The sky of this world
Is luminous long after
They are out of sight.
Such a person cannot die
And be lost from this world,
For when they go,
They leave behind much of themselves.
Being dead they speak.

(Adapted from Henry Ward Beecher)
Celebrant:
Geoff has asked me to give you some of the background to Michele's life, and after that, he, Alice, Greg Cardow, Michele's brother, and Mark Courbold, who worked with Michele at the National Library, will recall the real Michele.
Michele was born in the west of New South Wales, in Leeton Hospital in the Riverina on the 5th September 1956. Her parents, Jack and Betty, had settled in Darlington Point, a small town on the Murrumbidgee River after Jack returned from service in the Second World War. Michele was the youngest of four children, with her older brothers being Warren, Greg and Grant.
Michele started her education at the Darlington Point Central School. When she was fourteen she headed to Canberra, where she was a boarder at the Canberra Girls Grammar School for the remainder of her high school years. Her academic forte was in the area of maths and science, and she was a keen sportswoman.
After high school Michele took up a New South Wales teacher's scholarship and studied at the Australian National University for four years, and obtained a Bachelor of Science degree with Honours. She resided in Burton and Garran Hall. After a further year of study at the University of Canberra for a Diploma of Education, Michele ventured into the workforce, teaching science to the students of Albury High School for two years in 1980 and 1981.
Michele then took the next year off for a grand tour of Asia, Europe and America, the last four months of which was spent camping across America with Geoff. A week after their return, she married Geoff on the 20th of November 1982. The next few years were full of the joys of starting her family, with her son Chris born in 1983, Sam in 1985 and Alice in 1989. She was immensely proud of her children, and was a thoughtful and devoted parent.
In 1993 Michele headed back to work, and took up a position at the ANU coordinating a program of introducing ACT Primary and High Schools to the Internet. She stayed at the ANU in a number of roles relating to networking and teaching. She particularly enjoyed her work in the Faculty of Asian Studies from 1998 until 2001, where she undertook a program to bring the teaching of Asian languages to a larger audience via the Web. In 2001 she moved on to be the Web Manager for the Australian War Memorial, and she steadfastly asserted that despite working at the War Memorial for about three years she maintained a determined and comprehensive ignorance of all aspects of Australian military history!
Michele then went back to the ANU in 2003, working in the area of networked services and digital repositories. Her second period at the ANU was shorter, and within ten months she was wooed by the National Library of Australia to be their Director of Web Publishing. She thoroughly enjoyed her work at the National Library, and was award an Australia Day Medal by the Library for her efforts.
It was in November of 2008 that Michele was diagnosed with a melanoma. The initial operations were intricate and difficult, and the radiation therapy after that was tough for her. It took her some ten months to recover from this, but she was determined to get back on her feet and determined to get well enough to travel to America to visit her son Sam, who is studying there. She was well enough to return to work in late 2009, at least part time, but in April of this year the melanoma recurred, and this time it was inoperable.
Michele bore this illness with the patience, fortitude, courage, good humour and that inner strength and determination with which she bought to all the challenges in her life.
I have said enough and it's now time to hear about the real Michele. Firstly we'll hear from Geoff, her husband and partner in so much of what she did. Thanks Geoff.
Geoff Huston:
Vale Michele
As many who know me would attest, I am normally very comfortable with public speaking. But this is entirely different, and I confess that this is the hardest talk I have ever given. But I will do this in honour of my dear Michele, and today I will try to use my humble words to share with you my dear Michele.
I first met Michele when we were 17 and we were both in high school. She was a boarder at the Girls Grammar School here in Canberra, and I lived just around the corner. I have to confess that it was not love at first sight, nor were we childhood sweethearts. We were part of a larger social network in high school and then at University, where we shared an interest in Physics and Applied Maths. We went our separate ways for a couple of years until we met again by chance in 1981, when this time she managed to simply bowl me over. I was completely and totally smitten. At the time Michele was planning her big expedition off to the Himalayas, and this was not negotiable! But we managed to find a middle path, and I joined her in America for five carefree months camping across the breadth of America.
We arrived back in the country at the end of that year, and while Michele wasn't exactly barefoot, single, and pregnant, she had managed to score two out of three! We got married soon after, and our Chris arrived the following year.
The next few years were full of the joys of starting our family, with Sam arriving in 1985 and our little princess Alice in 1989. Michele was a thoughtful and devoted parent. At a time when working mothers were becoming more common, Michele devoted her time to our growing family for the next 12 years, and always insisted that our children were really our greatest achievement. She was immensely proud of her three children. So am I.
Michele was a keen sportswoman, and in particular she had an innate hand eye coordination for racket sports that left me in awe. She also had a strong competitive sporting streak in her, and while she was happy to play a social game of tennis, she would always make sure that she was never on the losing side if she could possibly help it! It was always a keen disappointment to her that two of her children inherited their father's sporting prowess, or lack thereof.
About the time Alice went to school in the mid 1990's Michele headed back to work. She picked up computing skills with an ease and speed that amazed me, and undertook a number of roles at the ANU including outreach to schools, web design and in scholarly services. From there she headed into digital repositories, digital catalogues and the role of libraries in a heavily networked world. She was totally at ease with technology, and she was always able to see it in terms of its usefulness and practicality rather than an end in and of itself.
Michele was also a woman of determination and inventiveness. Her ability arrive at the box office 10 minutes before the performance and secure four front row seats to a Dylan Moran performance at the Melbourne Comedy Festival, when the session had been fully sold out for months, is a firm part of our family's legends, and it sits alongside similar feats of securing seats at the Australian Open under circumstances that would defeat us lesser mortals.
Michele always believed that people were good-natured and would provide her with help and assistance when it was needed, and it seems that the times when this assumption let her down were rare indeed. She was always ready to trust in the kindness of strangers and turn them into new-found friends. Michele always thought that the person she was talking with at the time was deserving of her full attention and she was ready to listen, to empathise and, of course, being Michele, to offer advice. She touched so many people in her life, and touched them in a way that always bought out the best in them.
The best I can say here today in front of all her friends and her family is a most heartfelt and humble "thank you" to this wonderful and special person, dear, dear Michele. And the best I can share today with you is that same humble and profound thank you to each of you for coming today.
She bore her illness with a degree of fortitude, courage and grace that I could never have matched. Whenever you met Michele, whether it was a hospital visit, or to share a lunch or a cup of tea in her beloved back yard, the first thing she gave you was her wonderful smile. When Michele said she was glad to see you she meant it with all her heart. And when you parted there was always the echoes of her joyous laugh, and another smile to send you on your way with a warm inner glow.
Michele has always been my source of inspiration, a wise counsellor, and my dearly loved and cherished life partner. We have had many joyous years of being together, and three talented and beautiful children, and I feel as uniquely privileged and as humbled to have enjoyed her kindness, her consideration and her love now as I did when we embarked on our shared adventure of life some 29 years ago.
Celebrant:
Thanks Geoff. And now Alice, could you come to the lectern to speak to us of your mother.
Alice Huston

Mum was a wonderful woman and the best mum. Mum was always there for us when we needed her. When things weren't good, when we were unwell, worried or sad, Mum was always happy to see us and help us to see the brighter side of everything. She always told us that the thing she was most proud of was her kids.
Mum could have done anything. She was very bright and had a talent for motivating the people around her. I feel very blessed that she was willing to suspend her career for 10 years to devote her energies and talents to us. She had fruit waiting for us when we got home from school and was eager to help out with our schoolwork. Mum was always pushing us academically and was very supportive of our studies. She was so proud when Sam chose to pursue a PhD.
Her scientific background meant that in some ways we were kind of an experiment for her too. She once tried out giving barbie dolls to the boys when they were very young in an attempt to develop their feminine sides. The boys had ripped the dolls heads off within minutes. With all of her children Mum wanted to foster the same love for sports that she had. She was constantly taking each of us on to a new sport, trying find one that sparked an interest but to Mum's disappointment my favourite position in each of these sports was reserve and to mum's amazement I chose ballet instead. Mum has given all of us a solid foundation and I hope we continue to grow in a way that makes her proud.
Mum was always up for a chat; I couldn't leave her alone for five minutes without her getting the life story of whoever was nearby. So when I think about Mum, I think about her and I sitting on the couch at the end of the day having a good chat. I'd tell her all about my day and whatever was on my mind. She'd then offer me good advice and even though sometimes I didn't want to hear it I usually ended up following it.
Thank you Mum, you gave us so much, and we miss you, your company, advice and kind words; your easy smile and infectious laugh. We love you.
Celebrant:
Thank you Alice. I now ask Michele's brother, Greg Cardow to come forward and speak to us of his memories of Michele as she was growing up. Thanks Greg.
Greg Cardow
Good afternoon folks, my name is Greg Cardow and I am one of Michele's three brothers, the others being Warren and Grant. Michele came into this world on the fifth of September 1956, and was the apple of Jack and Betty's eye.
A few of my recollections of Michele in her early years were that she had a carefree happy and exciting time with some memorable moments, one being when the local policeman found Michele playing in the backyard just after it had been chipped bare by old Jimmy Dunn and then drenched with rain. Michele had a liking to remove her clothes and run around naked so he dutifully took a photo of Michele playing covered in mud from head to toe. Betty kept this photo in her home in pride of place.
I further remember when we three boys went to school at Darlington Point. We would set off in our baggy shorts and plastic sandals and walk all the way to school then back in the afternoon to work in the shop. But not Michele – Jack would take her to school in the car and anxiously wait to pick her up in the afternoon and bring her home – then she could go and play or organise us into pushing her in the billycart. One time she got me to push her backwards – fast in the stroller – roaring down the footpath with Michele screaming with laughter. I tripped and tipped the stroller over sending it skidding down the footpath. Michele was fine but the stroller was damaged. It was better to tell dad Greg broke the stroller – so I was in trouble again.
Many a good time was had when we all bundled into the back of the old Dodge truck and headed down to the river and beach for swimming, fishing and catching yabbies. This would then be cooked on the beach and enjoyed by all.
Another time Michele insisted we have a 'live' Xmas tree, no plastic for her. It took pride of place in Betty's lounge, then, well after Xmas when we thought it should be extinguished and due to be thrown out, Michele thought it should be planted and the best place would be in Warren's backyard. He now thanks Michele because it grew so big it blocked his view and is now too large to remove – but it will always remind him of Michele.
When time came for Michele to further her education Jack and Betty made what must have been a very difficult decision and bundled Michele of to Canberra CGGS, and then on to university. This proved to be a wise decision and Michele grew into a beautiful, mature and confident person. She always had a happy nature, a great outlook on life and quite often dispensed words of great wisdom to me, which was very much appreciated.
Michele then met her wonderful caring husband Geoff and had three beautiful children, Christopher, Sam and Alice. Alice is very much like Michele with a happy nature and amazing positive outlook on life. Michele can rest easy in the knowledge she did the best she could for her family and for those around her. To Geoff, Chris, Sam and Alice we say a big thank you for taking such good care of Michele during this difficult time. She will be in our hearts forever.
Celebrant:
Thanks Greg. And finally Mark Courbold, one of Michele's colleagues will remind us of her time at the National Library. Thanks Mark.
Mark Courbold – National Library of Australia
Michele and I first worked together in the 90s at the Australian National University where she had an outreach role supporting the introduction of the Internet to ACT schools. I very quickly came to respect and admire Michele, and all our interactions since have only confirmed this initial impression.
In that project, Michele not only tackled the difficulties that students and teachers faced using what was still quite a raw technology, but she looked beyond to the deeper, long term and important issue of the role the Internet could play in education. With relatively few resources at her disposal apart from a fine mind, and an indomitable will, she set about making things happen. An approach she would maintain throughout her career. She worked with teachers and students, cajoling and begging resources from the University and wherever else she could find them, to undertake a range of truly groundbreaking activities.
Following stints at the Australian War Memorial and back at the Australian National University, Michele joined the Web Publishing Branch at the National Library in 2004, becoming its Director in 2006. In 2008, the Library recognised Michele's outstanding performance, presenting her with an Australia Day Achievement Award. Michele remained with the Library through most of her illness, continuing to make valuable and important contributions.
Michele was a wonderful person to work with. I know she was a keen sportswoman and I suspect she was a natural all-rounder because that's what she was at work. She was passionate and pragmatic, flexible and dogmatic, a leader and a team player - a wonderful person to have in an organisation. She was respected and trusted, a technically savvy innovator, and a sensitive and effective manager – she made a difference.
Michele shaped the Web Publishing Branch into a highly skilled team able to support the Library as it tackles the challenges of being in an online world. She nurtured, challenged, protected and stimulated her staff, forming a close and very effective team. I know they miss her greatly.
Michele facilitated many innovations in the Library as a result of her technical insight, her fine intellect and her communication skills. She was key in opening the Library's eyes to the developing possibilities of social networking and Web 2.0; well in advance of most public sector agencies in Australia. Groundbreaking and successful online Library activities originated from Michele's insights.
There are many concrete legacies of Michele's contribution to the Library, but I think a more profound legacy is the effect she had on those she worked with throughout the organisation. Michele was a smart, insightful and visionary woman who understood both technology and people. She treated everyone with respect and courtesy. Working with Michele was a pleasure; you knew you were going to get a result and it was going to be a good result.
The Library is a better place for Michele having worked there and her contribution will be missed.
Michele made a difference; her colleagues, friends and family will miss her.
Michele, I mourn your death but celebrate your life, I will miss you.
Thank you
Celebrant:
Thank you Mark. And now I invite you to listen to the Gnossienne No. 1 - Lent, by Erik Satie, as you think of your relationship and your time spent with Michele.
Music: Gnossienne No. 1 - Lent, Erik Satie
Celebrant:

That woman is a success
Who has lived well,
Who has laughed often and much;
Who has gained the respect of intelligent men and women, and the love of children;

Who has filled her niche and accomplished her task;
Who leaves the world better than she found it,
Who has never lacked appreciation of Earth's beauty, nor failed to express it;

Who looked for the best in others,
And gave the best she had.
We are grateful for the life that has been lived and for all that Michele has meant to us. Hereby may we resolve that while we live we will strive with all our might to make our living of real worth, and carry on the work that has already been laid down.
We are so glad that Michele lived.
We are glad we saw her face and felt the pressure of her hand.
We cherish the memory of her words, her deeds and her character.
We cherish the memory of her family life,
Her concern and care,
Her vitality and involvement – especially in conversation,
Of her loyalty to her friends,
Of her place in history.
We cherish her friendship, and most of all, her love.

As you entered the chapel this afternoon you may have noticed that there are envelopes and a box for donations to the Melanoma Institute. You are invited to take one to make a donation in memory of Michele.
Thus thinking of Michele, let us leave here in peace, and let us depart in quietness of spirit, conscious of the things that really matter in life, and resolved to live this way toward each other.
May the road rise up to meet you, May the wind be always at your back, May the sun shine warm on your face, May the rain fall soft upon your fields. And until we meet again May your hearts and lives be at peace.
And we conclude this time of celebration of Michele's life as we listen to "Oblivion" by Astor Piazolla.
Music: "Oblivion" - Astor Piazzolla
As the mourners are leaving the chapel:
"Comptine d'un autre été : L'après-midi" – Yann Tiersen.
"Oboe and Violin Concerto – Adagio" – Albinoni.
Geoff Huston
13 September 2010